Partners eye open-access green ammonia import terminal at Port of Antwerp-Bruges
Belgian energy infrastructure firm Fluxys has teamed up with compatriot Advario Stolthaven Antwerp and Advario Gas Terminal to study the feasibility of building an open-access green ammonia import terminal at the Port of Antwerp-Bruges.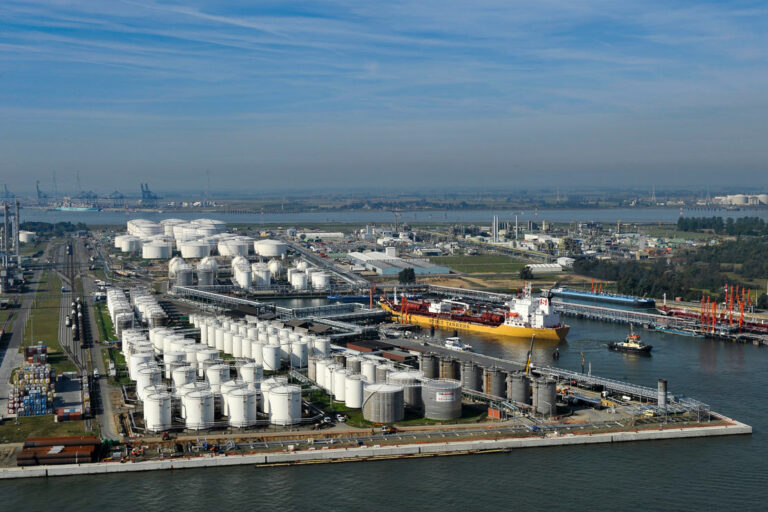 The three companies plan to combine their expertise in logistics, storage and pipeline transmissions to ascertain the optimum ammonia storage solution for northwest Europe as the need for importing and storing green energy grows amid the decarbonisation drive across Europe.
Located at Belgium's Port of Antwerp-Bruges, the future terminal is expected to be operational in 2027. It will deliver storage and multimodal logistics solutions for ammonia (train, truck, barge and possibly ammonia pipelines connected to local industrial sites).
It will also provide facilities to convert ammonia back into hydrogen and connect to the Fluxys open-access hydrogen network to ensure supply throughout northwest Europe.
The project aligns with the REPowerEU programme, which has set a target of 20 million tonnes of green hydrogen consumption by 2030, one-fifth of which should be covered by ammonia imports.
Guy Bessant, president of Stolthaven Terminals, a part of 50-50 joint venture with Advario that creates Advario Stolthaven Antwerp, said that this partnership complements the hydrogen research project the company is planning to undertake in Brazil.
Pascal De Buck, CEO of Fluxys, commented: "We are delighted to launch this green ammonia import terminal project with our Advario partners. Combining and leveraging our terminalling and technology expertise will enable us to fast-track the development of key solutions for importing low-carbon energy and feedstock. Fluxys aims to be a decarbonisation driving force and this project is a landmark venture in helping build the infrastructure to carry the molecules needed for a carbon-neutral society."
Follow Offshore Energy's Clean Fuel on social media: