Researchers start wave energy resource characterization in Atlantic Ocean
Researchers from North Carolina and Puerto Rico have deployed Waverider buoys to collect wave energy data that will help marine energy developers pinpoint best spots to source clean, renewable energy in the Atlantic Ocean.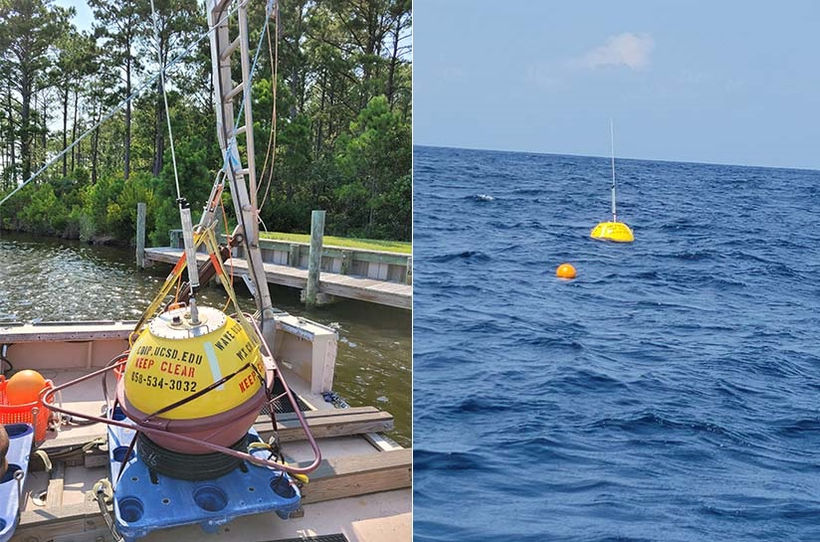 Two new Waverider buoys have been deployed – one off the coast of North Carolina and the other off Puerto Rico.
There, the buoys will collect detailed data on the surface waves in those areas of the Atlantic Ocean, adding to publicly available data sets on waves, currents, and water temperatures that will not only move marine energy closer to widescale use but also help scientists understand how climate change is affecting our oceans.
The project is led by Mike Muglia, a principal investigator at the Southeast Atlantic Coastal Ocean Observing Regional Association and research professor at the Coastal Studies Institute of North Carolina, and Miguel Canals, who is a principal investigator at the Caribbean Coastal Ocean Observing System in Puerto Rico.
"We want to characterize the wave energy resources available. But we also want to collect long-term data on waves to understand the ocean and the changing climate for the benefit of future generations", said Canals.
The National Renewable Energy Laboratory (NREL), which owns the two Waverider buoys, partnered with ocean experts Muglia and Canals to collect this critical new data.
The NREL-led effort is part of a larger, nine-year project funded by the U.S. Department of Energy's Water Power Technologies Office.
The collaborative, multi-institution study generates the resource data that technology and project developers need to design the next generation of devices.
The data generated is used to verify and improve model accuracy, and are also valuable on their own as detailed records of the real ocean. The data from this project – both the measurements and the models that use them – is publicly available on the Marine Energy Atlas.
"The ocean is an extremely challenging environment. But we're starting to see success, which makes it a very exciting time to be in this industry", said Levi Kilcher, a physical oceanographer at NREL who leads the Waverider and Marine Energy Atlas projects.
The two buoys will send live data back to Muglia's and Canals' teams using satellite communications systems. Solar panels help power those systems, and flashing lights alert boats to keep a safe distance.
Using high-quality data on how the ocean moves, wave energy researchers and engineers can design wave energy converters that are better tailored to extract energy from the motion of the ocean surface, according to NREL.
Aside from this, the data is expected to benefit climate and environmental scientists too, NREL noted.
Both buoys now float near the Gulf Stream, which swings through the Gulf of Mexico (near the Caribbean Coastal Ocean Observing System on Puerto Rico's northern coast) and hooks around Florida before heading up the east coast to Canada.
Marine energy – clean power generated from ocean currents, waves, tides, and water temperature changes – is still young, but has the potential to deliver clean, renewable electricity to coastal communities where nearly 40% of Americans live.