Saab Seaeye breaks personal record as Ocean Infinity orders 10 eWROVs
Saab Seaeye has signed a contract with launch customer Ocean Infinity for ten of its new electric work remotely operated vehicles (eWROVs), representing the largest order in Saab Seaeye's history.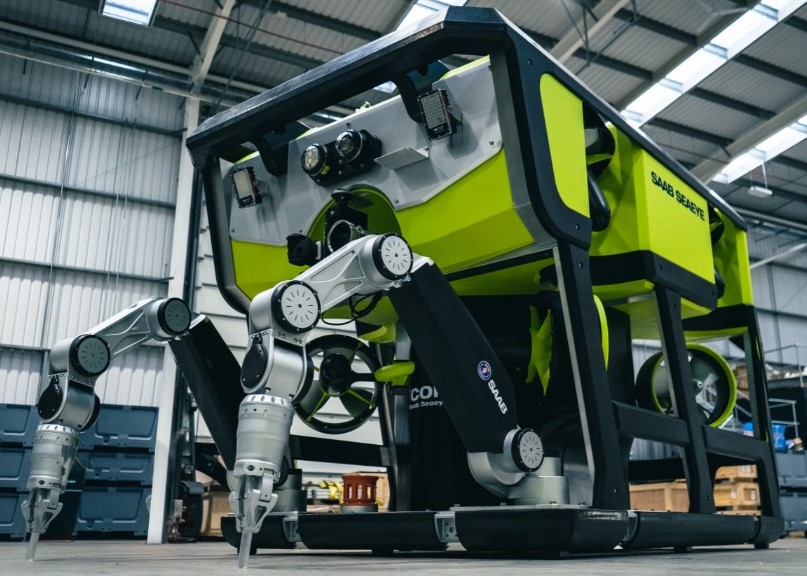 According to Dan Hook, CTO at Ocean Infinity, the eWROVs will form an important part of the Armada architecture, and through integration with the dynamic payload controller, the fleet will be capable of deployment and operations anywhere in the world from the company's remote control centers.
The eWROV is said to be the world's most capable and intelligent all-electric, work-class underwater robot. It will be built in Saab Seaeye's new facility in Fareham within the Solent Freeport.
Saab stated that eWROV's electrification is the key to its improved performance and sustainability-related attributes. Electric systems use little or no oil, making the vehicle significantly more environmentally friendly than equivalent hydraulic work-class systems.
The electric ROV benefits from Saab Seaeye's iCON intelligent system architecture, making it capable of fully autonomous operation, the company added.
Due to this and further future contracts, Saab Seaeye is planning to expand by 70% to an additional 3,236 m2 site in Fareham, UK, by March 2022 and is currently recruiting.
"Ocean Infinity's order is the largest in Saab Seaeye's history and highlights the need for intelligent, adaptable and flexible underwater robotics," said Magnus Lewis-Olsson, chairman of Saab UK.
"The eWROV is more efficient and cleaner than the hydraulic alternatives and it also requires less human involvement and will play an important role in future autonomous vessel fleets. We are confident the eWROV will serve Ocean Infinity well."
The low-emission robotic Armada fleet, unveiled in February 2020, will initially see 17 bespoke designed uncrewed vessels added to Ocean Infinity's existing robotics fleet.
The vessels, initially measuring 21 meters and 36 meters long, will be able to perform offshore data acquisition and intervention in both shallow and deepwater operating regions. They will use a range of underwater platforms, including remotely deploying autonomous underwater vehicles (AUVs) and remotely operated vehicles (ROVs).
Richard Daltry, technical director at Ocean Infinity, just revealed in a webinar that ten or eleven vessels are currently being built and are in various phases of construction.