Singapore gets its 1st hybrid electric bunker tanker
Singapore's first hybrid bunker tanker, Marine Charge, built for V-Bunkers, a leading supplier of barge logistics services in the port of Singapore, has been delivered.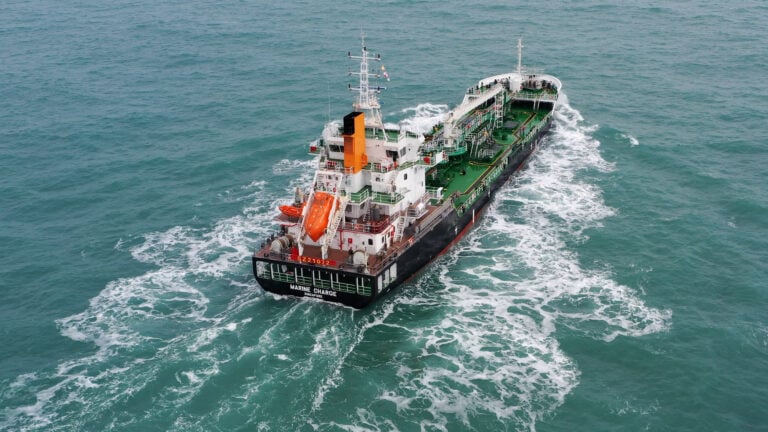 The 7990-ton vessel, designed by SeaTech Solutions and built by Zhejiang Shenzhou Sunshine Heavy Industry is fitted with 480Kwh of Shift's energy storage system (ESS).
ESS will be primarily used for storing energy during low power consumption for use during peak usage periods, allowing main generators to operate with a more stable load, a process also known as peak shaving.
The technology is aimed at optimizing energy use while cutting fuel and maintenance costs and improving the responsiveness and reliability of power management. According to Shift, the system is expected to enhance fuel efficiency and reduce greenhouse gas (GHG) emissions by approximately 10 percent a year.
In addition, the ESS has the capability to charge its battery system from onshore power supply sources once such charging facilities become available in Singapore.
"M.T. Marine Charge will set a new standard for sustainable bunkering operations. We are excited to be enabling this positive impact for the decarbonisation of the marine industry," said Prabjot Chopra, Vice President of Technology of SeaTech.
"This vessel represents a true demonstration of the change that is becoming normal in the marine industry- a fuel carrier focussed on improving efficiency, cost of operations and simultaneously demonstrating the commitment to good global citizenship. Along with the total design of SeaTech, SHIFT was able to deliver the best of both worlds- a best case vessel that transports still much needed oil- efficiently," said Brent Perry, CEO of Shift Clean Energy.
Shift currently supplies battery-based ESS technology to the marine industry, as well as its PwrSwäp pay-as-you-go power service to on land customers such as ports, terminals and offshore wind farms.
The vessel is part of a batch of up to four vessels. V-Bunkers ordered two electric-hybrid bunker tankers in 2021. The company plans to deploy these bunker tankers for harbour operations in Singapore with the aim of cutting carbon emissions within the port.
Mike Muller, Head of Vitol Asia said the company wants to support the reduction of emissions in the port of Singapore through the deployment of its first electric-hybrid bunker tanker, adding that the second one is expected in late May.
"We support Singapore's aspirations to be a leader in maritime decarbonisation and look forward to using these new craft to more sustainably and efficiently deliver bunkers to customers here in the world's biggest bunkering port," he added.
SeaTech and Shift are also a part of the recently formed alliance working on the construction of the first all-electric, zero carbon emission harbour tug in the Asia Pacific region.
The parties are combining expertise with Vallianz Holdings Limited and the American Bureau of Shipping (ABS) to build the 24-metre e-tug that will be powered fully by battery and equipped with azimuth propulsion.