Singapore shortlists six consortia for ammonia project
Six consortia have been shortlisted by the Energy Market Authority (EMA) and Maritime and Port Authority of Singapore (MPA) for Singapore's ammonia power generation and bunkering project on Jurong Island. The selected proposals will advance to the next stage of development through a closed Request for Proposal (RFP) process.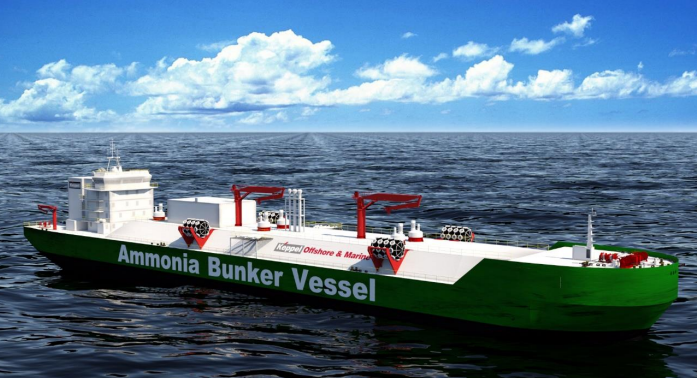 The RFP follows the Expression of Interest (EOI) that was initiated in December 2022 and concluded in April 2023. This initiative, aimed at reducing carbon emissions and fostering cleaner energy solutions, garnered a total of 26 proposals from both local and international companies, MPA Singapore revealed.
Among these, six proposals have now been shortlisted, gaining recognition for their technical soundness, land optimization, safety, and commercial viability.
The RFP aims to identify a lead developer with whom the government will collaborate to develop an end-to-end ammonia solution. This solution encompasses the generation of 55 to 65 MW of electricity by using imported low- or zero-carbon ammonia through direct combustion.
Additionally, the project will facilitate ammonia bunkering at a capacity of at least 0.1 million tons per annum (MTPA), beginning with shore-to-ship bunkering and subsequently expanding to ship-to-ship bunkering.
The RFP is set to be officially launched before the end of 2023, positioning Singapore as one of the pioneering countries to experiment with and implement a direct ammonia combustion power plant.
This venture also aims to support the comprehensive assessment of ammonia bunkering, catering to international shipping and domestic harbor craft needs.
"This project will support Singapore's National Hydrogen Strategy, whereby one of the key thrusts is to experiment with the use of advanced hydrogen technologies close to commercialization," Engh Dih Teo, CEO of MPA Singapore, said while announcing the project's progression to the next stage.
"While there are several stones to feel before we cross this river, MaritimeSG hope to make another step towards safely unlocking the potential of low-carbon ammonia as a pathway to support the energy transition and maritime decarbonization!"
If the project proves to be viable, it is anticipated to play a substantial role in harnessing the potential of low-carbon ammonia as an eco-friendly fuel source.
Ammonia is emerging as the frontrunner in the maritime industry's quest for decarbonization.
Its low carbon intensity, potential for green production methods, and compatibility with existing infrastructure are key factors driving the maritime industry's interest in this versatile fuel.
What is more, ammonia can be used as a non-cryogenic long-haul carrier for hydrogen (H₂).
However, being a very toxic chemical addressing the challenges it poses is essential. Collaborative efforts with research institutions, classification societies, and relevant agencies are underway to conduct safety studies for NH₃ bunkering.
This involves developing safety standards, contingency plans, and assessing the required training competencies for engineers, operators, and seafarers.