Watch: World's largest containership squeezes through Suez Canal
Evergreen's giant 24,000 TEU containership Ever Acme transited the Suez Canal on Friday, 3 of February, while underway on its maiden voyage from Malaysia to the Netherlands.
The ship is the newest addition to Evergreen's A-type vessel series and can carry over 24,000 containers.
The head of the Suez Canal Authority, Lieutenant General Osama Rabie, said that the successful transit of the ship proves the readiness of the Suez Canal to handle current and future generations of large ships. The authority said that its development strategy involves direct communication with shipping lines and shipyards to exchange information and ensure future ships are able to navigate the canal safely.
Ever Acme was delivered in December 2022 by its builder Hudong-Zhonghua Shipbuilding, four months ahead of schedule.
Ever Acme was the third 24,000 -TEU containership delivered to Evergreen last year.
The first boxship from the series, named Ever Alot, was handed over to the Taiwanese shipowner in June 2022, followed by the second one, Ever Aria, in September 2022.
The three ships are among the world's largest containerships based on their capacity. The trio is part of a total of nine vessels being built by Hudong-Zhonghua Shipbuilding for the shipowner to ABS class.
The A-type ship measures 400 meters in length and 61.5 meters in breadth and has a designed draft of 14.5 meters. This ship type is designed to sail at speed of up to 23.0 knots.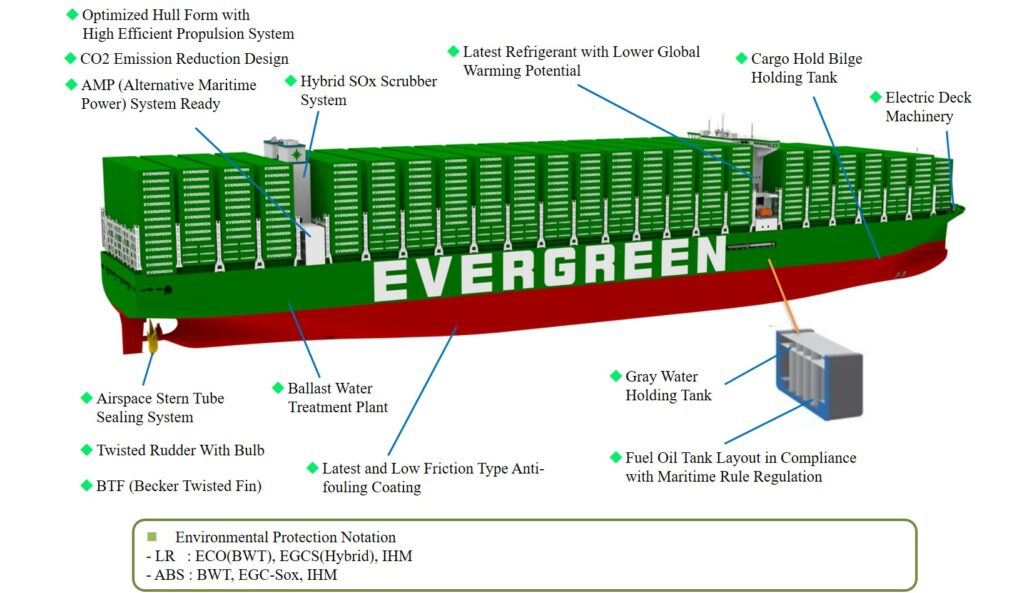 The 24,000 TEU containerships have been independently designed by Hudong Zhonghua, and they are fitted with a myriad of green features including high efficiency, energy-saving, and safety solutions in line with Tier III emission requirements.
These include twisted rudder & BTF energy-saving devices to increase the propulsive efficiency of propellers, ballast water treatment plants, as well as low friction anti-fouling coatings.
As disclosed, the ships have a bulbous bow design, large-diameter propellers, and energy-saving ducts to ensure low energy consumption. They are also fitted with hybrid scrubbers.
Ever Acme, like its sister ships from the series, is designed to be an alternative maritime power system (AMP) ready, which enables the vessel to shut down generator engines and reduce emissions in ports.
The 24,000 TEU containerships have received Environmental protection Notation from ABS and Lloyd's Register.