Wavepiston's power generation and desalination units arrive to Gran Canaria
Danish wave energy company Wavepiston has transported all parts of its wave power generation and desalination units to Gran Canaria where they will assembled and installed in the following months.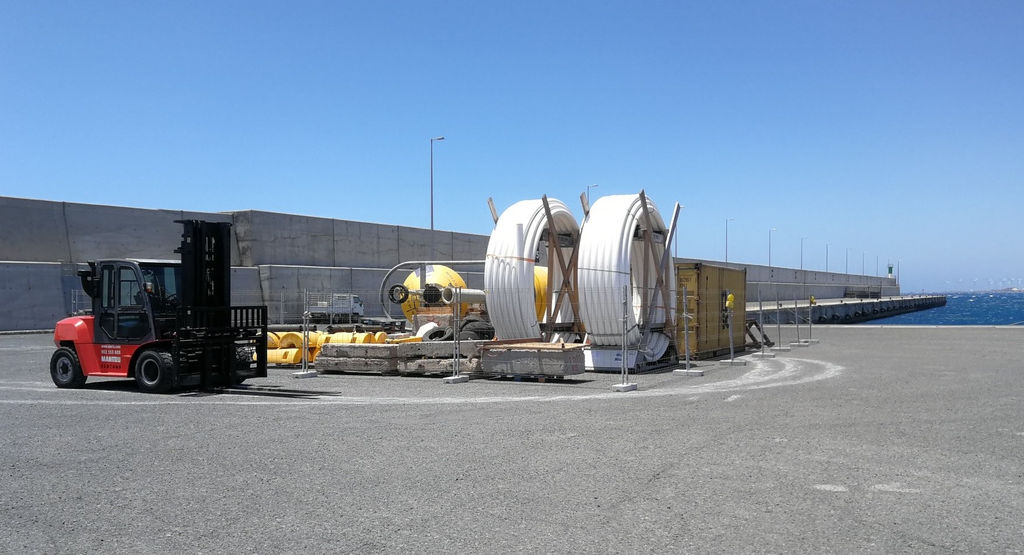 Work can now start to get the infrastructure installed and system in the water at the Oceanic Platform of the Canary Islands (PLOCAN) test site in 2022, according to Wavepiston.
The company will shortly begin with the assembly of the system, whose parts include pressure pipe, riser hose, riser base, cast iron shells and much more.
In parallel with the assembly work, Wavepiston is progressing with the updated design for its energy collectors based on valuable information from the initial pre-installation at the beginning of 2021.
Wavepiston's wave energy system consists of energy collectors placed in the ocean. The energy collectors produce pressurized seawater which is transported to the shore where power generation and reverse osmosis units for desalination are located.
To remind, Wavepiston recently completed the factory acceptance test (FAT) for both reverse osmosis and power generation technology in Denmark.
Commenting on the system, the recently appointed Wavepiston's chairman Jesper Højer said:
"The Wavepiston technology offers a unique flexibility because we can deliver both electricity and desalinated water – simultaneously or at different times. In that way, we can help to balance the load on the electricity grid. But more importantly, we can deliver desalinated water cheaply and efficiently for the power-to-X installations that will become an integral part of offshore wind farms in the future.
"Further to that our grid connection costs will decrease dramatically if we are setting up operations alongside the construction of an offshore wind turbine field. That again means a dramatically improved business case: We project that we can increase the efficiency with double digit percentages, where the industry today is chasing improvements in the single digit percent range! This for a marginally higher investment".