Crestwing's wave energy device set for streamlining at Aalborg University
Danish company Crestwing has made progress in advancing its wave energy technology as part of a collaborative project funded by the Danish government's Energy Technology Development and Demonstration Program (EUDP).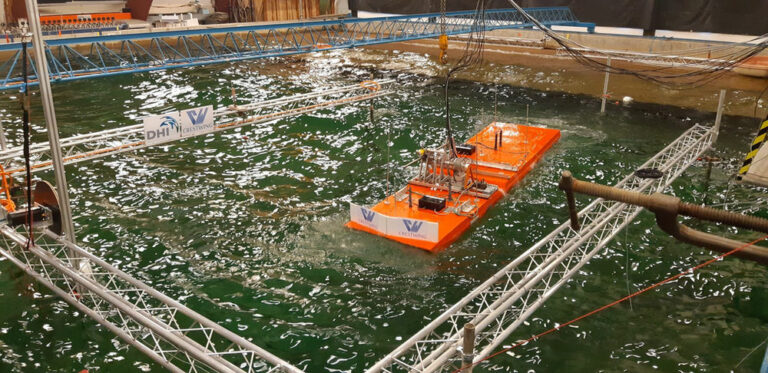 Supported by €980,000 (DKK 7.3 million) from the EUDP, Crestwing has partnered up with Aalborg University (AAU), a full-service marine engineering company Shipcon, and software and engineering company Logimatic Engineering to demonstrate a reliable wave energy technology that is market ready.
In that regard, Crestwing will be testing a scale model of its wave energy technology in AAU's Wind and Wave laboratory in Esbjerg.
During the project, the partners will work on the optimization of Crestwing's power take-off (PTO) system, the installation of a max power point tracker controller (MPPT) – a system used with variable power sources to maximize energy extraction as conditions vary, and the development of a microgrid.
AAU Energy's role in the EUDP-supported project is to design, develop and implement a controller in the wave energy converter.
Associate Professor Mohsen Soltani from AAU Energy said MPPT controller rules how the hydro-mechanical power will be converted to electrical power so that maximum energy from the waves is extracted.
The generated power is supplied to an onboard microgrid with batteries and power electronics. This ensures the power output is within the regulations of the power grid to which Tordenskiold – Crestwing's wave energy prototype that was already tested in real sea conditions – is connected.
Mohsen Soltani and his team AAU Energy Offshore Research Group will create a simulation of how the system behaves, then test it to verify and improve, so that afterwards, they can scale up, and Crestwing can implement it in Tordenskiold.
Crestwing's CEO, Ruth Bloom, expects the project from now to move fast, and according to AAU, she believes that the first wave energy park will be realized after the optimization project with AAU Energy, Logimatic Engineering and ShipCon.
The university added Bloom would like the first park to be built in Denmark and is currently working on securing investors and EU funding for the project.
As the developer of the floating attenuator-type of wave energy technology, Crestwing expects to reach the same cost level as offshore wind energy in 2030 and be competitive with the onshore wind in 2035.
Subscribe and follow
Offshore Energy – Marine Energy LinkedIn