EPS' newbuild LNG dual-fuel bulker named in China
A newbuild 210,000 dwt LNG dual-fuel bulk carrier built for Singapore-based shipowner Eastern Pacific Shipping (EPS) has been named at Chinese shipyard New Times Shipbuilding (NTS).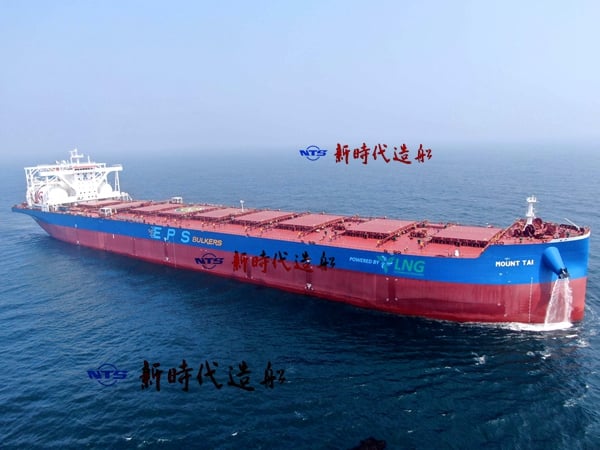 The vessel was named Mount Tai during a ceremony held on 4 May at the Chinese shipyard. Following the naming ceremony, Mount Tai is expected to be delivered and put into operation by the end of this month, NTS said.
The shipbuilder noted that Eastern Pacific Shipping has currently on order four 110,000-ton oil tankers, eleven 210,000-ton dual-fuel power bulk carriers and seven 7,000 TEU container ships.
The 299.95-metre-long Mount Tai is EPS' fifth unit in a 210,000 dwt series of dual-fuel bulkers. The third vessel was delivered in November 2022 while the fourth vessel, Mount Ararat, was built at the beginning of this year.
After the desulphurisation conversion carried out by COSCO Shipping Heavy Industry (Zhoushan) shipyard, Mount Ararat conducted a sail trial and began its voyage on 16 February.
When it comes to EPS' latest activities, it is worth noting that the company has just signed a contract with Jiangnan Shipbuilding, a subsidiary of China State Shipbuilding Corporation (CSSC), for the construction of four very large ammonia carriers (VLAC) with a capacity of 93,000 cubic metres.
Based on their capacity, these are expected to be the world's largest ammonia carriers.