First high-tech ammonia-ready Armada vessel arrives in Europe
The first of eight robotic vessels that will form part of Ocean Infinity's high-tech Armada fleet has arrived in Norway for equipment installation.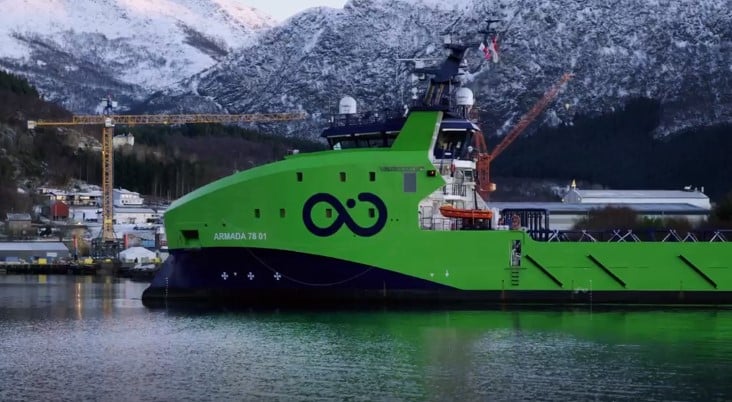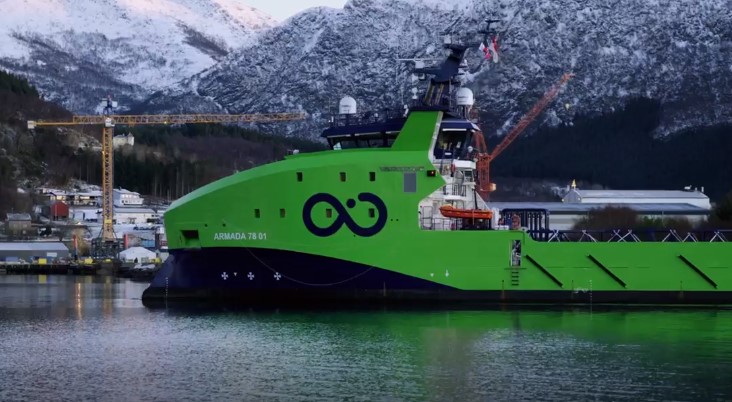 The vessel, built by Vard Vung Tau in Vietnam, arrived at Vard Søviknes for remote system outfitting and payload equipment installation.
According to Ocean Infinity, this first ship is expected to enter service on offshore data acquisition tasks in the coming months.
The first two robotic vessels left Vietnam in November for their maiden voyage, after they were delivered to the marine robotics company.
Vard Electro is equipping the ships with advanced marine electronics for remote operations from its SeaQ product range, while VARD Accommodation is providing an accommodation solution. Seaonics is delivering modular launch and recovery systems for moonpools that can be adapted to various marine operations.
Vard won the contract to design and build the eight highly advanced, 78-meter vessels in November 2020. The delivery of all vessels is expected by the end of this year.
The fuel-efficient, onshore-controlled vessels will initially only use a skeleton crew onboard, and in due course are planned to work with no personnel offshore.
The vessels are prepared for green ammonia as a fuel with fuel cell and battery technology and are designed for an ultra-low carbon footprint.
According to Vard, the vessels will provide safe launch and recovery platforms for ROVs and other robotic systems through two large moonpools arranged with the shipbuilder's own damping system.
In February 2022, Ocean Infinity contracted Vard for the design and construction of a new series of six multi-purpose offshore vessels, all of which will be operated from shore and will eventually utilize green ammonia as fuel.
This order of the 85-meter, optionally crewed robotic vessels will take Ocean Infinity's remote vessel fleet to 23 vessels – said to be the largest in the world.
The vessels are scheduled for delivery from Vard Vung Tau in 2025.