GALLERY: Incat Crowther-designed FSV joins Seacor Marine fleet
Louisiana-based ship manufacturer Gulf Craft has delivered an Incat Crowther-designed fast support vessel to the U.S.-based vessel owner, Seacor Marine.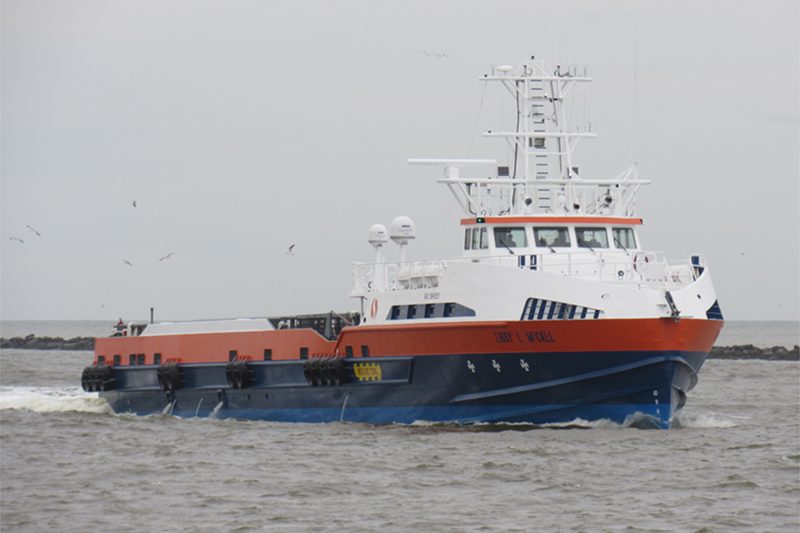 Images by: Incat Crowther
---
Incat said on Tuesday that the vessel, named Libby L. McCall, was Seacor Marine's third vessel in a series of new monohull FSVs.
According to Incat, the first two FSVs of the series were the Liam McCall and the Liam J. McCall with one more vessel under construction.
The company added that Libby L. McCall featured redundancy to mitigate against downtime or loss of functionality due to mechanical complications. Five Cummins QSK 60 diesel engines coupled to Twin Disc MGX 61500 SC gearboxes provide for main propulsion power.
Electrical power is derived from three Cummins QSM 11 generator sets, each producing 290 kW and offshore station-keeping and dockside maneuverability is enabled by three Thrustmaster bow thrusters each outputting 200 hp. Station keeping is enhanced through a Kongsberg DP-21 system.
Specially designed gangways are also provided on each side of the vessel to provide safe boarding means to both crew and passengers.
"This latest delivery is a testimony to Incat Crowther's valued partnership with Seacor Marine and Gulf Craft, with all three parties sharing a commitment to service and a philosophy of innovation," Incat said.
Gulf Craft also built two Express Plus class of FSVs for Seacor. The two are sister vessels Najla McCall and Alya McCall with two more still under construction.
Earlier this month, Seacor Marine acquired three FSVs in exchange for the private placement of 603,872 shares of its common stock to domestic U.S. holders affiliated with the McCall family of Louisiana. Seacor has operated the acquired vessels for the past ten years under a revenue sharing pooling agreement along with four of its owned FSVs of similar specification. As part of the transaction, this pooling agreement was terminated.
In addition, Seacor Marine last week entered into definitive agreements for the acquisition of three platform supply vessels (PSVs) from COSCO Zhoushan, an affiliate of COSCO Shipping.