Hudong-Zhonghua cuts steel for Seaspan's scrubber-fitted boxship
Chinese shipbuilder Hudong Zhonghua Shipbuilding has launched the construction of a 15,500 TEU containership being built for Hong Kong-based containership owner Seaspan Corporation.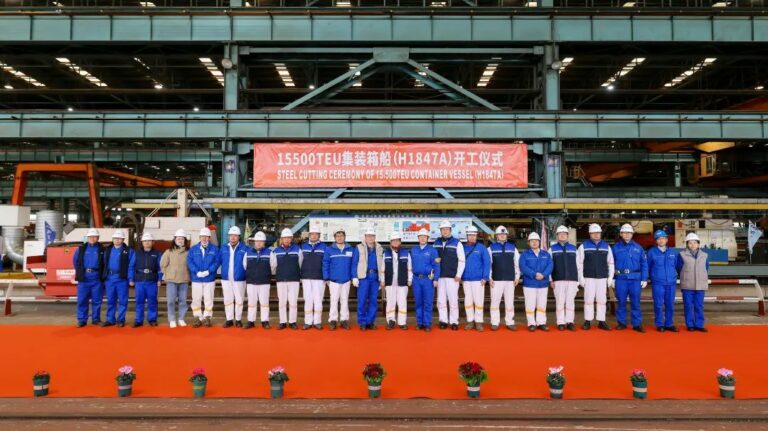 Seaspan ordered a total of six ultra large containerships in March 2021, splitting the order between CSSC's Hudong-Zhonghua Shipbuilding and Jiangnan Shipyard. Deliveries are expected to begin in the second half of 2023 and extend through to mid-year 2024, according to Seaspan.
Upon completion, the vessels are assigned for long-term charters with undisclosed global liner companies.
According to Hudong, which has independently developed the design of the ships, this vessel is the third ship from the series.
The 15,500 TEU containership will be 366 meters long, 51 meters wide, and 30.2 meters high. It will have the ability to reach a speed of 22.0 knots. The vessel will boast an optimized hull shape, a large-diameter propeller that cuts fuel consumption and thus aids in emission reduction as well as an energy-saving duct.
All the newbuilds will be scrubber-fitted and will include energy-saving and emissions-reduction technologies helping the vessels meet IMO NOx Tier III requirements.
Seaspan's operating fleet consists of 129 vessels with a total capacity of 1.18 million TEU and an additional 61 vessels under construction, including 25 LNG-fuelled vessels. On a fully delivered basis, the company's fleet is expected to have a capacity of 1.9 million TEU.
The company's parent Atlas Corporation has recently entered into a definitive acquisition deal with the Poseidon Acquisition Corp under which Poseidon will acquire Atlas in an all-cash transaction for $10.9 billion. The deal is expected to provide Atlas with greater stability as the company embarks upon substantial capital investment in making its fleet compliant with the IMO's regulations.
The transaction is expected to close in the first half of 2023, subject to approval by shareholders and relevant regulatory bodies.