PHOTO: McDermott starts hookup and pipelay ops for BP off Trinidad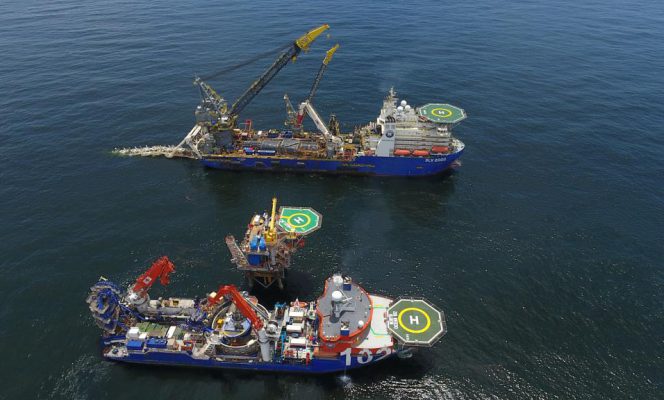 Engineering and construction company McDermott has started hookup and pipelay operations for BP offshore Trinidad. 
McDermott on Thursday shared a photo of its two vessels, North Ocean 102 and DLV 2000, initiating hookup and pipelay operations for the oil major offshore Trinidad.
McDermott's diving team was earlier this year awarded a contract to support the pipeline installation and pre-commissioning work for the BP's Angelin project, located 25 miles (40 kilometers) off the east coast of Trinidad and Tobago.
The company also holds an engineering, procurement, construction, installation and commissioning (EPCIC) contract for BP's Angelin development.
McDermott diving operations include: free flooding the pipeline; barrier testing; metrology and 26-inch (66 centimeters) spool tie-in at the new platform and at the Serette facility; pre-commissioning support for pigging, hydrotesting and de-watering of the pipeline and free span rectification.
The company's DLV 2000 was selected for the installation of the platform and pipeline.
As reported in early August, BP's Angelin platform arrived in Trinidad following the completion of the fabrication in Altamira, Mexico. In the weeks that followed, the Normally Unmanned Installation (NUI) was positioned off the south-east coast of Trinidad in water-depth of approximately 65 meters.
The Angelin gas field development will include four wells and will have a production capacity of approximately 600 million standard cubic feet a day mmscfd. Gas from Angelin will flow to the Serrette platform via a new 21-kilometer pipeline. First gas is expected in the first quarter of 2019.
Offshore Energy Today Staff
Related news
List of related news articles