Solstad selling its PSV fleet to Tidewater for $577 million
Norwegian shipping company Solstad Offshore has agreed to sell its platform supply vessel (PSV) fleet to U.S. offshore vessel operator Tidewater for a total cash consideration of approximately $577 million, marking an exit from the PSV segment.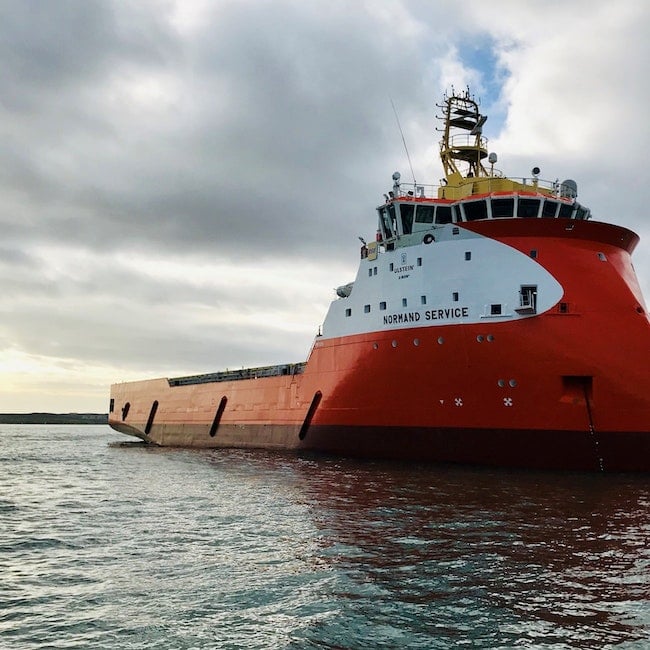 The PSV fleet consists of 37 vessels, all of which are currently working worldwide, principally in the North Sea, but also in Brazil, Australia and West Africa. The fleet has a total backlog of approximately $620 million, including contract option periods, and significant potential cash flow generation upside as maturing contracts roll onto higher market day rates.
This strategic move is said to reduce Solstad's debt by approximately NOK 6 billion (around $574.8 million) and considerably strengthen its balance sheet, debt service ability and liquidity position. Furthermore, exiting the PSV segment is expected to significantly reduce Solstad's capex program in 2023 and 2024.
After the transaction has been completed, Solstad's fleet in operation will consist of 41 high-end offshore vessels, in addition to six vessels that are non-operational and considered to be sold.
Solstad said that its vessels would continue supporting clients in the offshore energy sector as both offshore renewables and oil and gas are predicted to see significant investments in the coming years and that the company would maintain its global footprint in all key offshore regions.
"The sale of the PSVs represents a shift in our strategy in a changing market. The PSVs mainly support the oil and gas industry, while the AHTSs and CSVs can service all offshore energy sectors, including oil and gas and renewables. This move is therefore in line with our strategy of being a key enabler in the energy transition. Further, the transaction will give Solstad greater financial leeway and a significantly improved debt and cash position going forward," said Lars Peder Solstad, CEO of Solstad Offshore.
"Following the transaction, the core competence of future Solstad will be even better applied to further developing the CSV and AHTS segments, including building up our service division and capitalizing on a stronger position in the renewable energy market. The generally higher margins for AHTS and CSVs will allow us to improve our financials, strengthen our renewable energy presence, and put us in a position to, over time, renew our fleet."
Closing of the transaction is subject to customary regulatory approvals and includes a financing contingency. The transaction was unanimously approved by Tidewater's Board of Directors and is expected to close in the second quarter of 2023.
In a separate statement issued today, Tidewater announced that the addition of the 37 PSVs will make it the largest owner and operator of high-specification PSVs, which is the OSV vessel class that has demonstrated the highest utilization through all market cycles.
The company's fleet comprises 228 vessels, including 199 PSVs and AHTS with an average age of 11.3 years, 65 per cent of which are high-specification vessels. The combined fleet will include 14 battery hybrid and two LNG power-capable vessels.
The U.S. company plans to fund the purchase through a combination of new debt and cash on hand and has received commitments from a group of financial institutions, led by its existing lender DNB Bank ASA, for a three-year senior secured credit facility of up to $325 million, and expects to raise new debt prior to closing.
"This agreement to acquire 37 PSVs from Solstad Offshore marks yet another important milestone in the strengthening of Tidewater's leadership position as we continue to capitalize on the rapidly improving OSV market. This acquisition further solidifies Tidewater as the leader in large, high-specification PSVs and as the new global leader in hybrid PSVs," said Quintin Kneen, Tidewater's President and CEO.
"This transaction is just the latest in a series of transformative steps Tidewater has taken to drive long-term earnings and cash flow generation. We are focused on bringing together the world's best OSV fleets to create the safest, most sustainable, most reliable, most profitable high-specification OSV fleet in the world."
If the transaction closes at the end of Q2, Tidewater will update its revenue guidance for 2023 to approximately $1.03 billion, while the vessel operating margin guidance will remain the same at approximately 50.0%.
Last year, Tidewater acquired Singapore's Swire Pacific Offshore, adding 50 vessels to its fleet. The company then revealed the agreement would create the industry's largest fleet of OSVs.