Sweden's King and Crown Princess inaugurate Stockholm Norvik port
Sweden's newest major freight port, Stockholm Norvik, has been officially inaugurated by His Majesty The King and Her Royal Highness The Crown Princess of Sweden.
Sweden's newest freight port opened for business already in 2020. The opening, however, was just when the pandemic was at its height, which meant that the official opening ceremony had to be postponed.
Stockholm Norvik Port provides Ports of Stockholm with increased capacity for more and larger vessels.
It is comprised of a new RoRo and container terminal located in a prime location with direct access to one of the fastest-growing regions in Europe. With its 925-meter quay length and 16.5-meter depth alongside, it is the nearest container terminal to Sweden's largest market and the closest to the fairway than any other ports on the east coast.
The container terminal at Stockholm Norvik Port is operated by Hutchison Ports, while the RoRo terminal is operated by Ports of Stockholm.
It is built with modern technology and equipment designed for reliability and low carbon footprint, ensuring sustainable operations.
Specifically, the port has installed a new solar cell system "larger than that of any other Swedish port", as part of its efforts to reach long-term environmental goals.
 The solar cell system facility measures 3,600 square meters and it can supply electricity with a maximum power output of 605 kW. The annual production can go up to 560 MWh, which is equivalent to the electricity requirements of 25 average-sized detached houses.
The entire port is powered by certified green electricity and all quay-berths are enabled for vessel shore power connection.
On 26 April 2023, His Majesty The King of Sweden, Carl XVI Gustaf  and Her Royal Highness The Crown Princess, Victoria Ingrid Alice Désirée, visited Stockholm Norvik Port and ceremonially cut the ribbon.
"At last! It gives us great pleasure to be able to officially open Stockholm Norvik Port," said His Majesty The King.
"The Crown Princess and I have been given a guided tour of the ports and are very impressed by these modern facilities, the different modes of transport that meet here, the flow of goods that connects Stockholm to the rest of the world, and all the new green technology that has been developed here. Instead of the inauguration of a newly opened port, I have had the pleasure of inaugurating a fully operational port."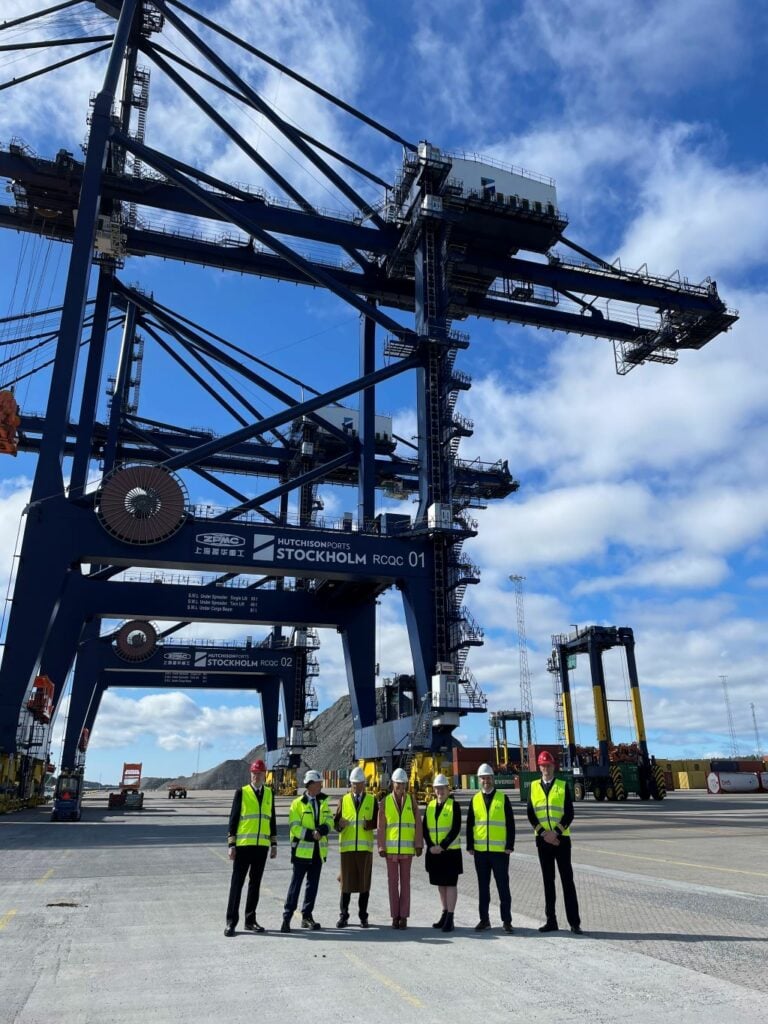 "The sustainable supply of goods to the Stockholm Region is one of Ports of Stockholm's most important roles. Today nine goods in ten arrive in Sweden by sea, and Stockholm is by far the largest consumer region in the country," explains Karin Wanngård, Mayor of Stockholm.
"We want to provide the optimal preconditions to get these goods as close to their final destination by sea as possible. This state-of-the-art port in the best possible location is not only important for the Stockholm Region, but for much of Sweden in general. We have built a port that has the latest technology and we are immensely proud that we completed a construction project of this magnitude on time and on budget."
Construction of Stockholm Norvik Port started in 2016, with more than 200 contractors were involved in the project. The entire port cost SEK 3.8 billion.
Stockholm Norvik Port covers 44 hectares and is located 50 km south of Stockholm.