Langh Ship welcomes first multi-fuel MPP dry cargo ship
Finland-based shipping company Langh Ship has taken delivery of the first out of three new multipurpose (MPP) dry cargo vessels.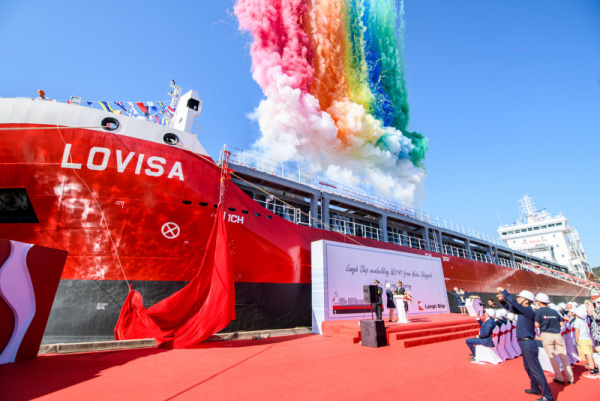 As informed, the company also held a christening ceremony for the vessel, and the vessel was named Lovisa. The ceremony was held at Wuhu Shipyard in Zhoushan, China.
The 7,800 dwt newbuild was launched in May this year. The MPP features a length of 119.9 meters, a molded width of 16.5 meters, and a molded depth of 10.4 meters.
The main engine, delivered by Wärtsilä, is a 4500 kW dual fuel engine able to burn in addition to traditional MGO and LNG also biodiesel and biogas.
The energy-efficient hull design is made by the design engineering company Shanghai Merchant Ship Design and Research Institute (SDARI).
The vessel is equipped with Langh Tech BWMS for preventing the spread of invasive species through the water in the ballast tanks, as well as FGSS from Korean maker Gas Entec.
The ship's LNG tank is both methanol and ammonia-read, the company said.
Lovisa is also prepared for the installation of onshore power, which would make them emission-free during port calls. There is also space reserved for the installation of batteries, which enable hybrid solutions.
In November 2021, the Finnish firm placed an order for three MPP vessels. The ships will serve Outokumpu on the short sea lane between Finland and continental Europe, according to Langh Ship.